Genome-in-a-box: building a chromosome from the bottom up
The genetic code of an organism is encoded on DNA that is present in every cell where it acts as the information carrier, providing the recipes for a cell to carry out its function. DNA is also a polymer, and a very special one indeed. Stretched out, it is many orders of magnitude larger than the cell to which it is confined. From in vivo studies, it became clear that the structure and dynamics of the genome are influenced by many parameters, such as geometric confinement, crowding, supercoiling and structural proteins. On the other hand, single-molecule in vitro studies provide a wealth of mechanistic details about the interaction of single proteins with short pieces of DNA.
The Genome-in-a-box project aims to stand between the in vivo and single molecule in vitro studies. To figure how the local interactions of DNA and proteins or confinement lead to macroscale emergent features of a full chromosome. We achieve this by reconstituting a bacterial chromosome in artificial cells such as microfabricated chambers and droplets or liposomes, where we can control size, shape, protein concentrations, et cetera at will. 
In essence, we are constructing a full-scale in vitro model system of a chromosome in a cell: building a chromosome from the bottom up.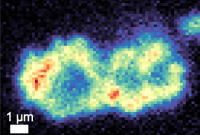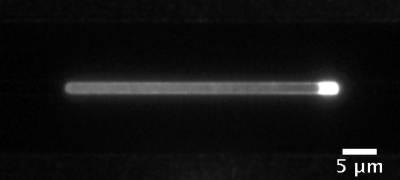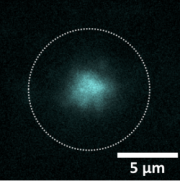 People working on this project